Denis Woodward 
BDS Otago   (Retired)
Denis established our practice at the the original Pakuranga Town Centre when it was first opened in 1965. Then, the view from the surgery included grazing cows – a very different scene from today!  However,  regardless of the population explosion and the proximity of the busy Pakuranga Highway, we have retained a peaceful situation for our surgery, with trees and garden as our outlook and a quiet side street to enter from.
Over the years, Denis has had a wide interest in professional affairs, holding various positions, culminating in President of the Auckland Dental Association. He is also active in Continuing Professional Development, attending seminars and lecture programmes so necessary at this time of rapid improvements and extensions of dental treatment possibilities.
Denis has four grown up daughters and two grandsons. He and his wife, Jill, share wide interests. Jill is a violinist and teacher and plays with St. Matthews Chamber Orchestra. Denis's interests are his home, his garden, his old restored cars, travel and sailing. He has built four yachts and sailed with Jill, coastal and offshore.
He was a founding member of the Pakuranga Rotary Club, and belongs to the Northern Club, the Royal New Zealand Yacht Squadron and Buckland's Beach Yacht Club.
Professionally, he aims to provide the best possible dentistry, in a caring and considerate manner.
Raja Al-Owbadi
BDS Baghdad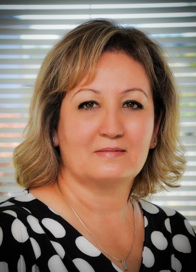 Raja was born in Iraq; she graduated with a Bachelor of Dental Surgery in 1985 from Baghdad University and  relocated to New Zealand in 1996 with her husband and two children. She registered with the New Zealand Dental Council in 2005 and is also a member of the New Zealand Dental Association as well as the Auckland Dental Association. She has worked in a number of successful dental practices in Auckland. She and her husband live locally in Howick with their son and daughter who are currently studying at university.